The TimeSite Pro mobile app for tablets, both iOS and Android, can be set into Kiosk Mode to enable multiple staff to clock on and clock off using a single tablet device. The tablet can be installed or mounted in a fixed location such as an entry point or site office and connected to a power supply and set to Kiosk Mode. Staff can then enter their personal PIN into the app to clock-on when entering a workshop, office or remote site. On exiting the site, they can enter their PIN again into the kiosk page to clock-off and then select a project and task to identify their activity on-site.
Configure Kiosk Mode
You can specify that you want to use our mobile app for tablets as a kiosk by going to Settings > System Settings > Features > Kiosk > Enable Kiosk. Click on the checkbox to enable kiosk mode. You can also specify random PIN numbers of a certain length are to be generated for new users. If this setting is blank, then you will manually enter a PIN in the User record.

User Record: Kiosk PIN
A Kiosk PIN can be entered or generated for both Resource and Administration users. If a user does not have a Kiosk PIN then they cannot clock-on using the tablet Kiosk mode. If an Administration user has a Kiosk PIN, then they can set the tablet into Kiosk mode and then exit Kiosk mode, but they can't clock-on or clock-off on the tablet and an error message will be generated if they try to do so.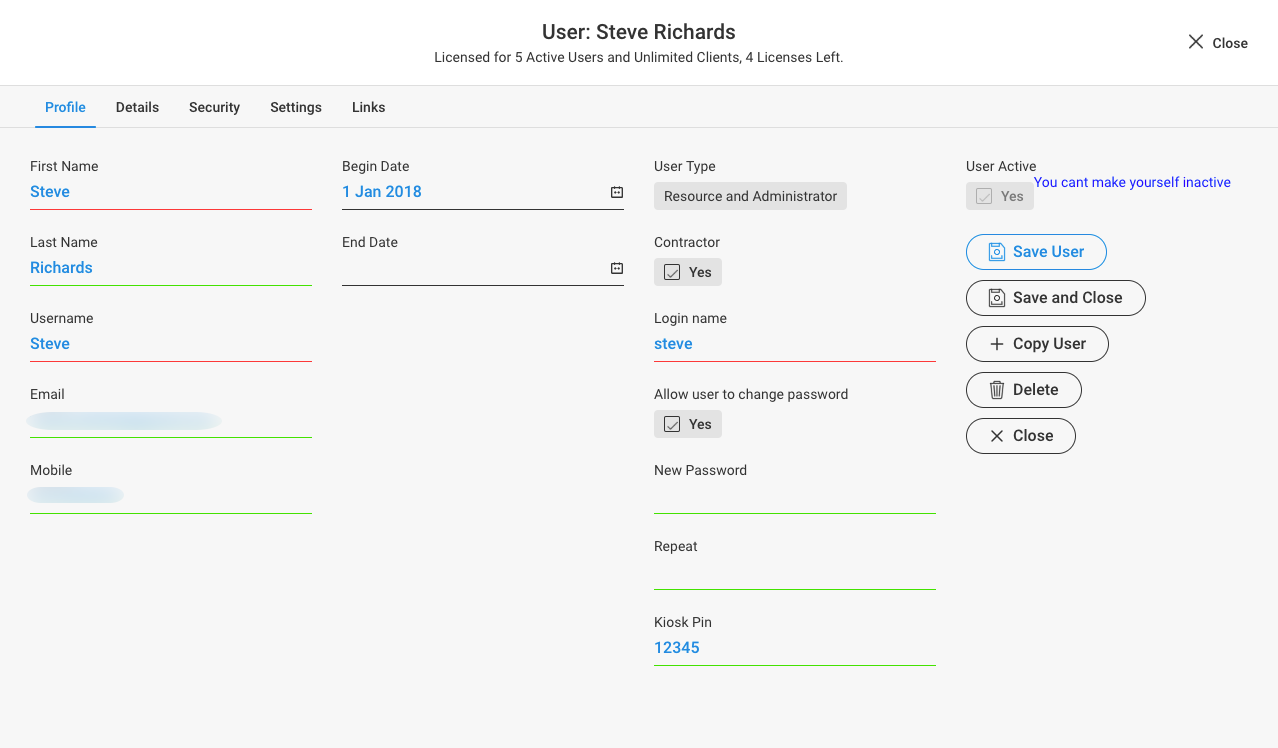 Activating and Exiting Kiosk Mode
Log in to the mobile app using your email address and password. If Kiosk Mode has been enabled for your TimeSite Pro account in Settings then you will be able to select it via the bottom menu bar to enter Kiosk Mode. If the Kiosk Mode icon is missing, log out of the mobile app, enable Kiosk Mode in the Settings screen via your browser, and log in to the mobile app again. The Kiosk Mode icon will then be available in the mobile app's bottom menu.
Any Kiosk PIN can be used to activate and exit Kiosk Mode.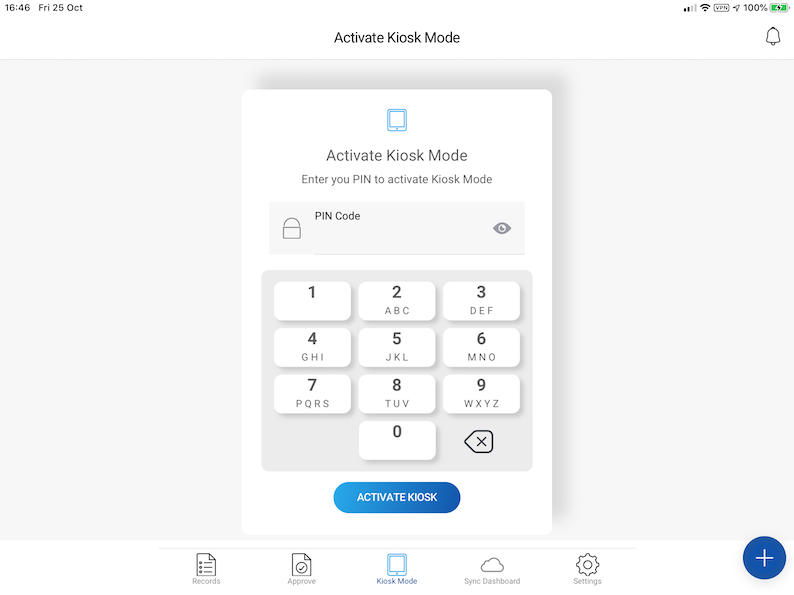 To exit Kiosk mode, touch the Exit button in the top left of the mobile app screen, enter a valid Kiosk PIN and the app will return to its normal timesheet Review / Edit screen.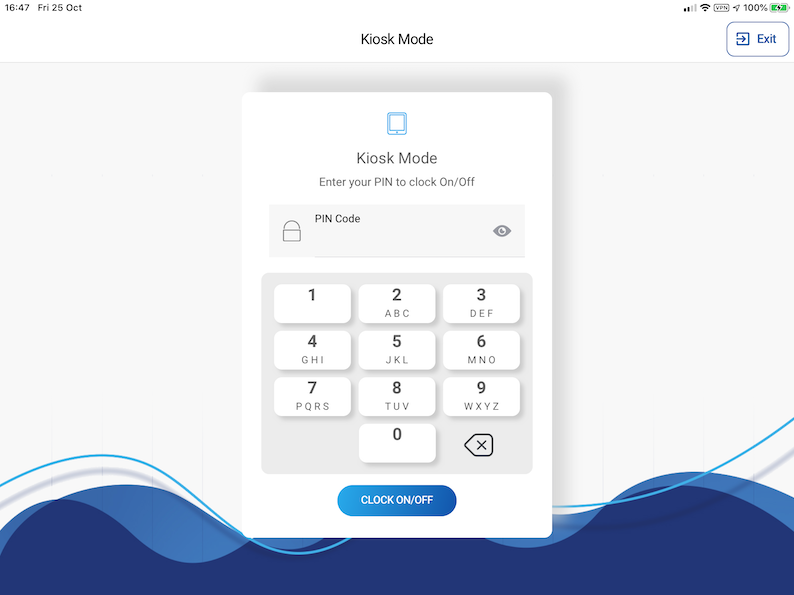 Clock-in and Clock-Out
Once the mobile app is in Kiosk Mode, Staff can then clock-on and clock-out using their Kiosk PIN. When they clock-on, they will get a visual confirmation of their clock-on and the app will close this confirmation after a few seconds.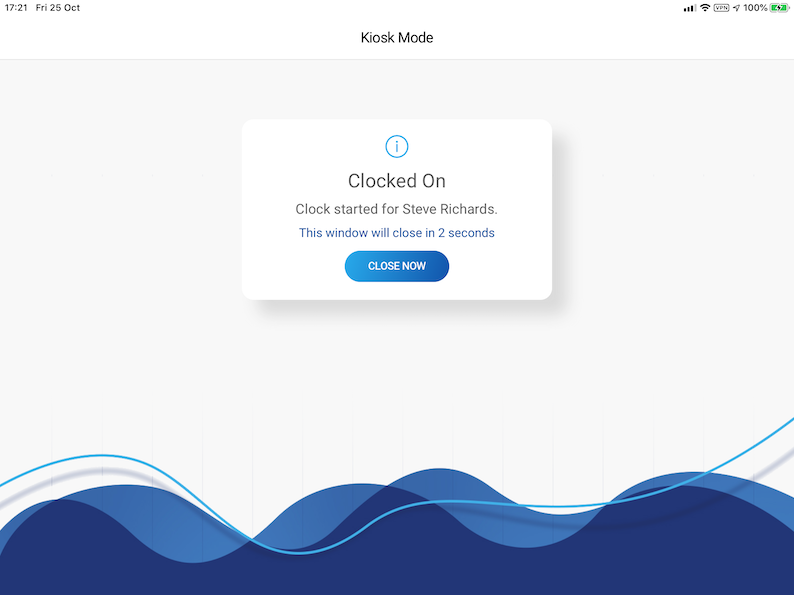 Staff follow the same procedure to clock-off: they enter their Kiosk PIN and touch the Clock On/Off button. They will be presented with a Clock-Off panel asking then to enter the Client (if necessary), Project and Task associated with their work activity.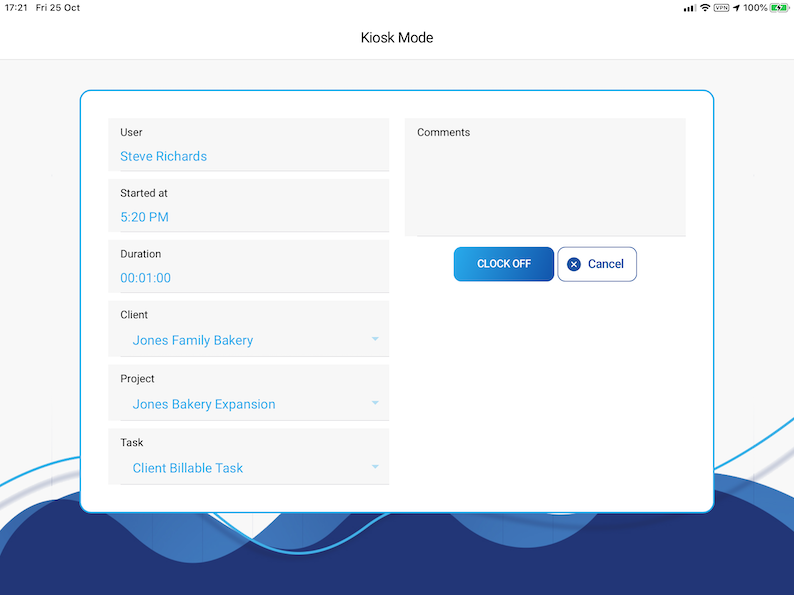 After they have clocked off, they get a visual confirmation of the details entered into their timesheet record, and the confirmation screen will close after a few seconds.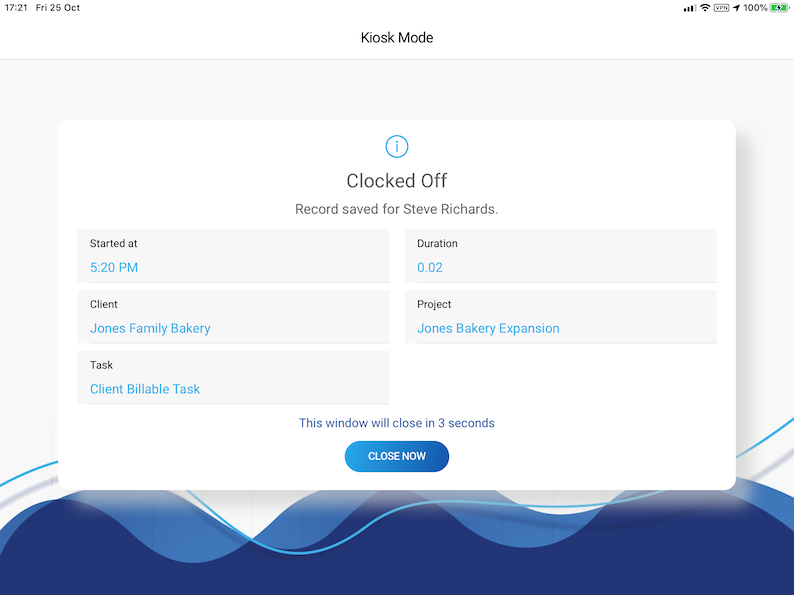 Dashboard Monitoring
You can monitor which staff have clocked-on via the Dashboard. Scroll down to the Kiosk widget and you can check when they clocked-on and the project's location details if set via a Geofence as well as the location of the Kiosk mobile device.