TimeSite Pro makes it easy to add and manage users to your account. You are only charged for resource users who have an individual timesheet and are responsible for adding records to their timesheet as they complete tasks and expenses during their working day.
TimeSite Pro also supports two other types of user. An administration user has access to configuration and administration capabilities of your TimeSite Pro account. An administration user can also be a resource user which provides them with their own timesheet as well as access to configuration and admin screens. You can also create a client user who has limited access to both TimeSite Pro capabilities as well as project information. Refer to the help article Managing Client Users for more details on this type of user.
Contents
User List
You can add, update and update User records in the User administration screen. Navigate to Admin > User to select a User record.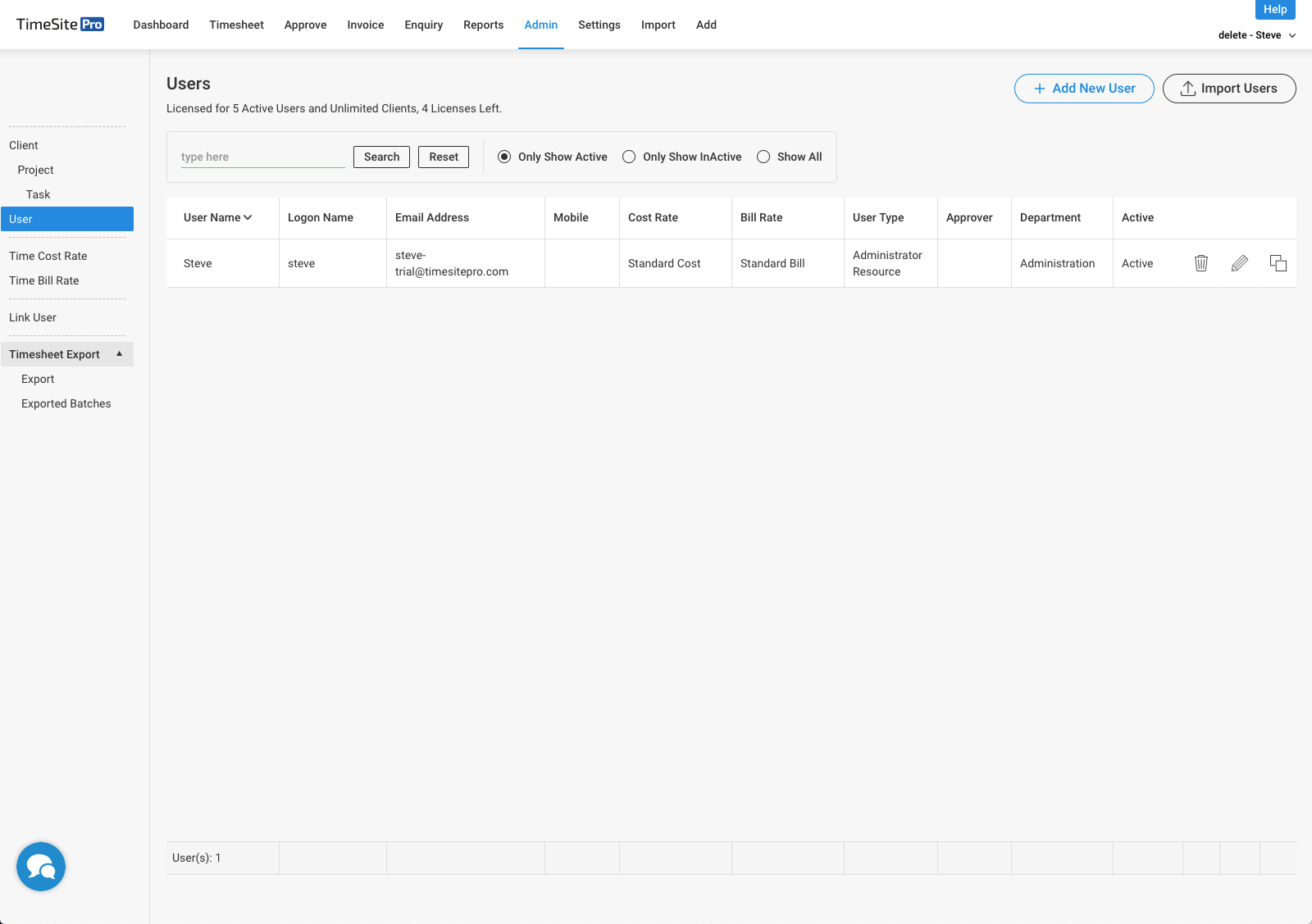 User Profile
The Profile tab enables you to edit basic user details. Fields underlined in red are mandatory: First Name, Username and Login name. If a mobile phone is entered, then a SMS message can be sent to the user with links to the app in the Apple and Google app stores. An Email address is mandatory for the user to login to our TimeSite Pro Mobile App for Smartphones and Tablets. Timesheet records cannot be entered for dates prior to the user's Begin Date. The Kiosk Pin must be unique within the account and enables the user to quickly log in to our tablet app once it is set into Kiosk mode.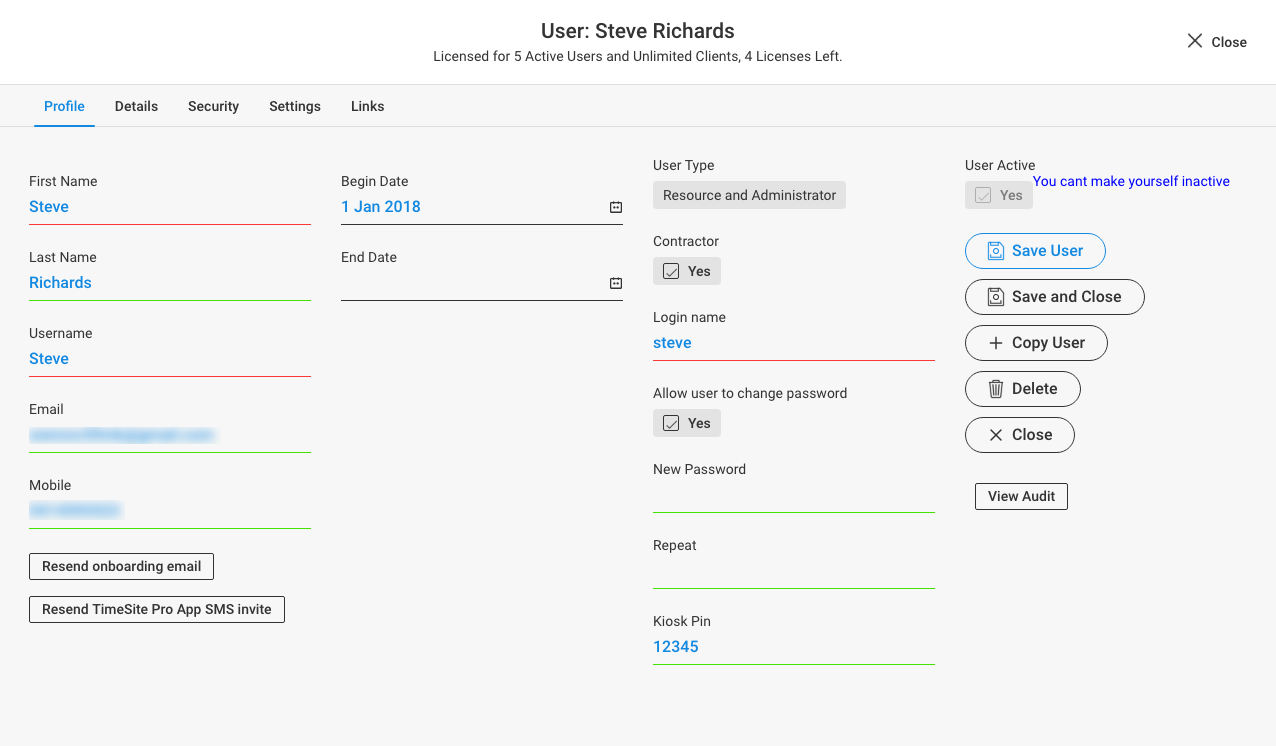 The View Audit button enables you to review the log of changes made to the User record by both account administrators as well as the TimeSite Pro system.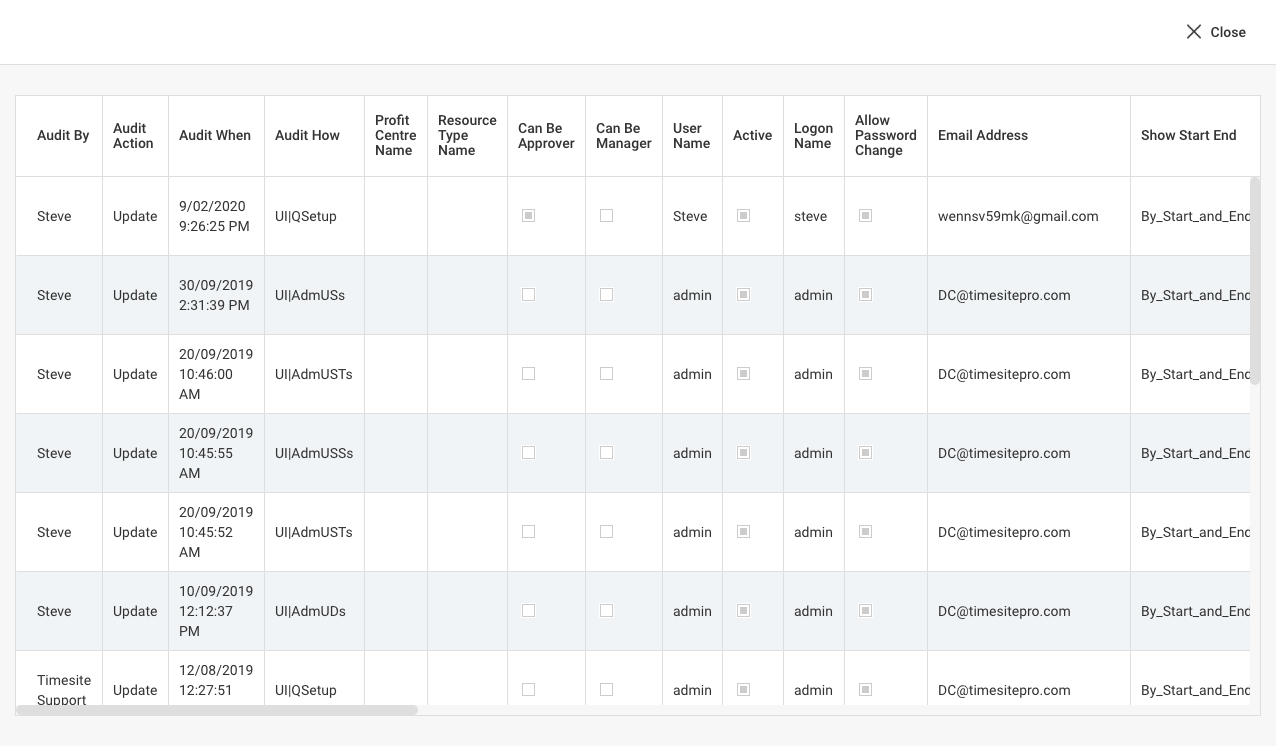 User Details
The Details tab enables you to enter phone, address, date of birth, employee number and ABN.
User Security
Use the Security tab to specify which TimeSite Pro screens the user can access, access rights such as access to other user's timesheets, cost and bill rates, and the information that the user can access from the Enquiry screen.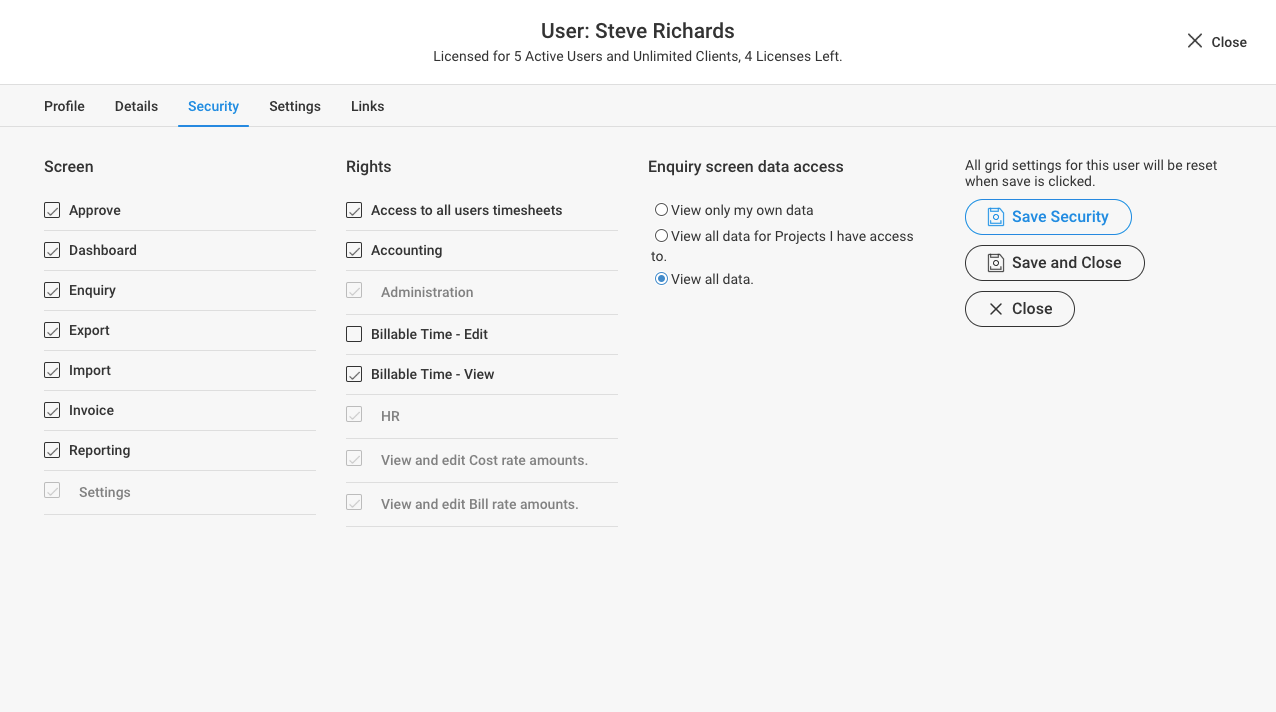 User Settings
Use the Settings panel to specify additional capabilities and settings such as timesheet approver, target weekly billable hours and utilisation %, Cost and Bill rate, default time entry format and timesheet tab format, etc.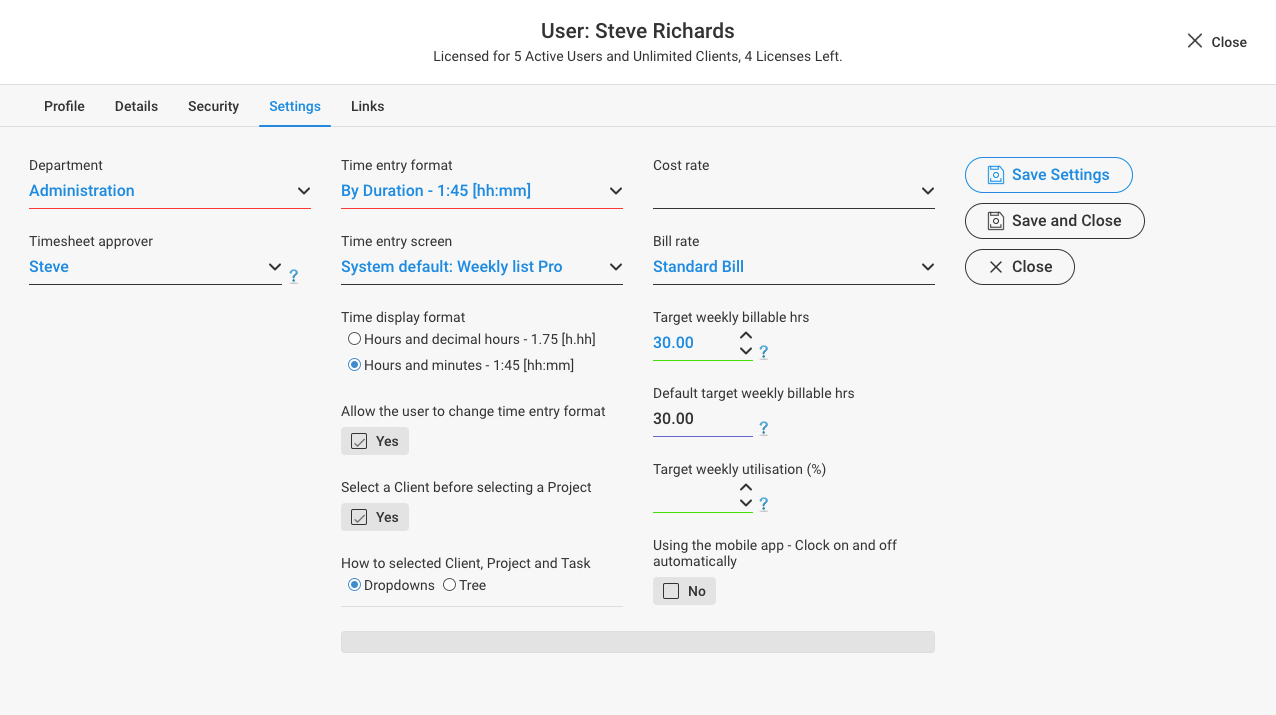 User Links
The Links panel enables you to view, create, modify and delete the links between the user and projects that they are working on. The user-project link enables you to specify the cost and bill rate that applies to the work that the user does for each linked project. See Project-User Linking: Standard & Accounting Subscription for more information on managing manual user-project links.
Manual linking of users to projects is not available with the Basic Subscription.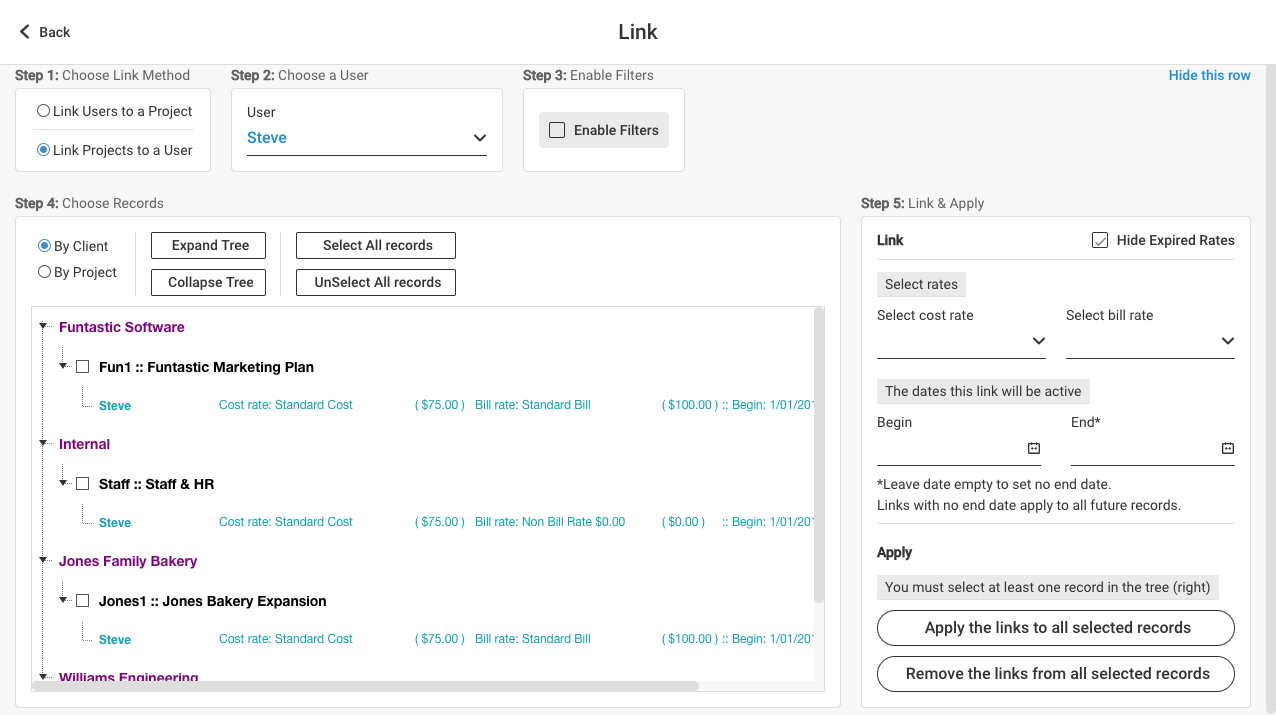 Inactive Users; Deleting Users
When a staff member leaves your company, you can make their user record inactive on the Profile panel. This means that they cannot log in to their TimeSite Pro account nor can they add or change timesheet records on their mobile app. If the user is a Resource user, then their record is removed from the subscription count. Note that their timesheet data is still available to be exported and used in all reports, enquiries and dashboard widgets.
You can delete Administration user records at any time. However, you won't be able to delete Resource users if they have timesheet records in the system. You can delete their timesheet records and then remove their user record except if these timesheet records have been exported to payroll or used in an invoice. This is a critical data integrity check in our system.
In general, we recommend that Resource users be made inactive rather than deleted unless the record has just been added or imported to your TimeSite Pro account and therefore has no timesheet records associated with it.