TimeSite Pro can send a variety of emails and notifications triggered by different activities and schedules provided by our solution, as well as one-off "broadcast" messages sent to all or some of your TimeSite Pro users.
The Messaging screen enables you to configure and send these messages and notifications via three different modes: emails, mobile app notifications and SMS messages. TimeSite Pro can send emails either from its email server or your email server. TimeSite Pro can also send short SMS messages and notifications to our mobile app.
You can configure your email server configuration via Settings > Email & Messaging. Review the help article Email & Messaging Setup for more information.
One Off (Broadcast) Messages
The Messaging > One Off screen enables you to broadcast messages to all, selected or individual users. These messages include emails, app notifications and SMS messages from one central location.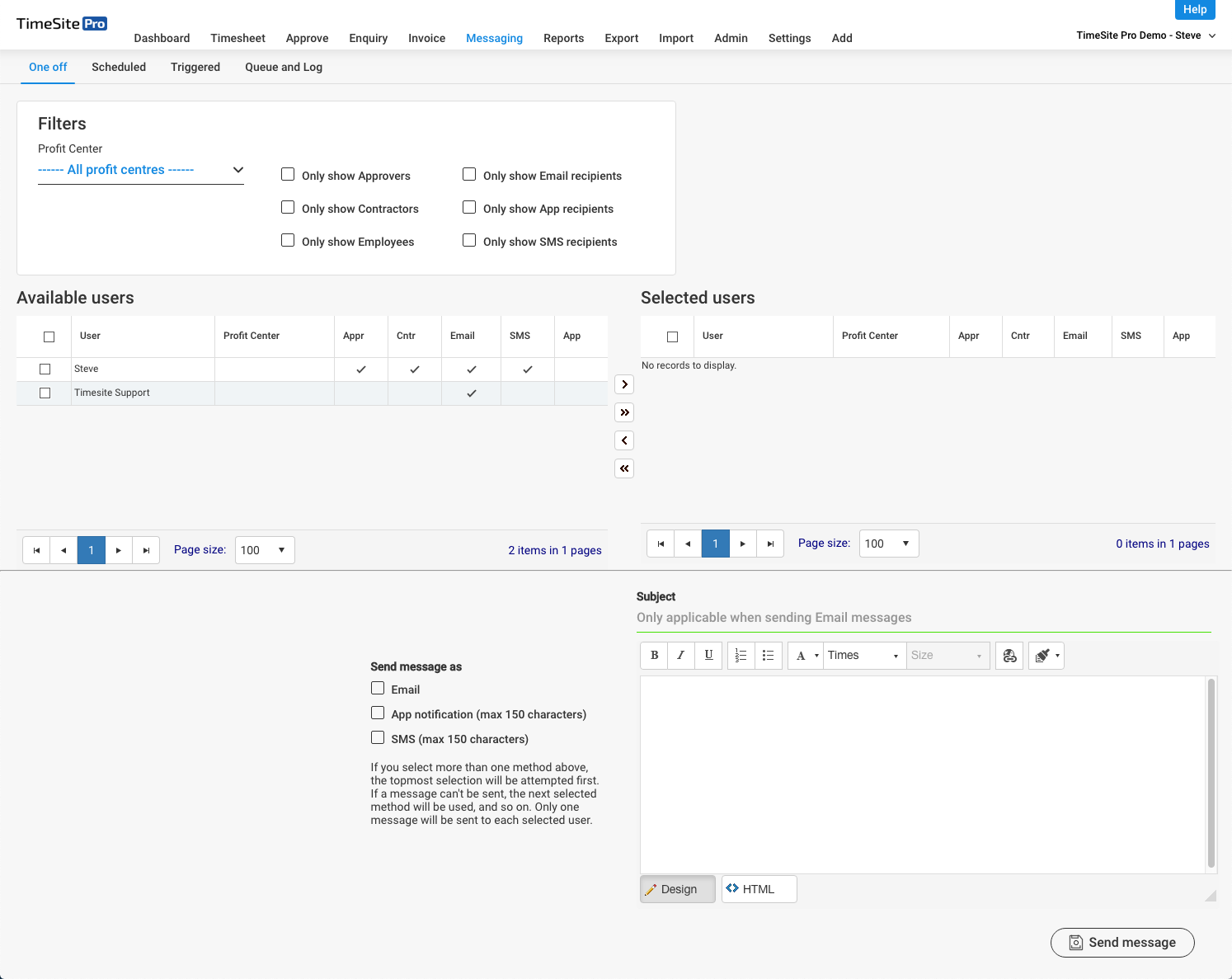 You can apply several filters to your user list: are they an Approver, Contractor or Employee; can they can receive an email, app notification, or SMS message. This is determined according to details — email address, mobile app use, mobile phone number — located in their User record.
You can then select one or many users in the Available users table and move them to the Selected users table to receive the broadcast message. Select one or more of the three different notification modes: Email, App notification, SMS. You can include variables in the broadcast message, such as %firstname% and %approvalpagelink%.
Click the Send message button to initiate the message broadcast.
Scheduled Messages
The Messaging > Scheduled screen can be used to send a variety of reminders to your users. Samples of these scheduled messages have been set up in your TimeSite Pro account. You can edit or delete these reminder messages. These reminders include:
Reminder to complete timesheets
Reminder to complete overdue timesheets
Reminder to submit timesheets
Reminder to approve timesheets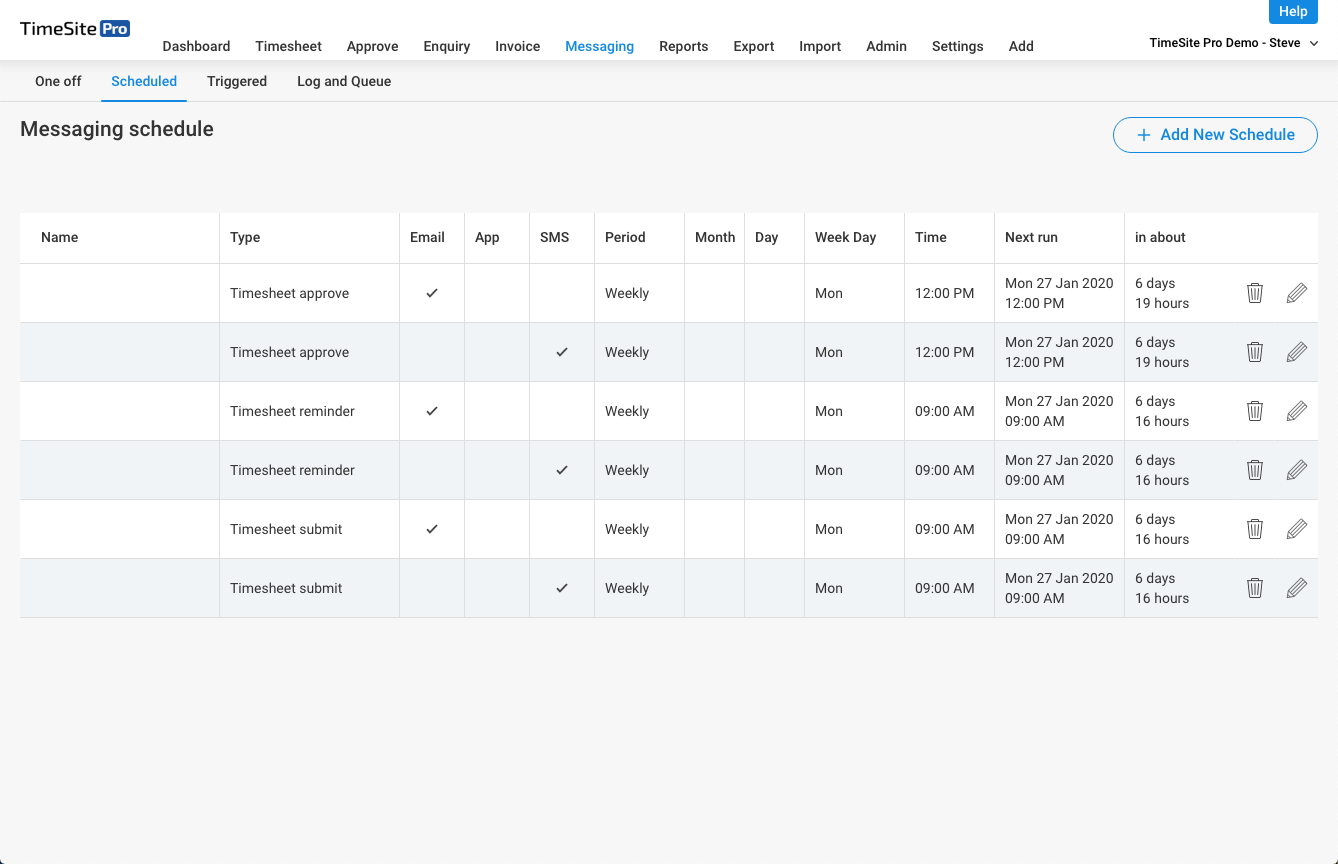 The reminder to complete overdue timesheets will be sent only to users who have not made a timesheet entry for x number of days. For example, you can remind a users to complete their timesheet if they have not entered any information for 7 days.
The reminder to submit timesheets can also be sent to their timesheet approver. This enables a manager or supervisor to take action to ensure that their team's timesheets are submitted by the due date.
The reminder to approve timesheets will only be sent to approvers if they have a timesheet requiring their attention.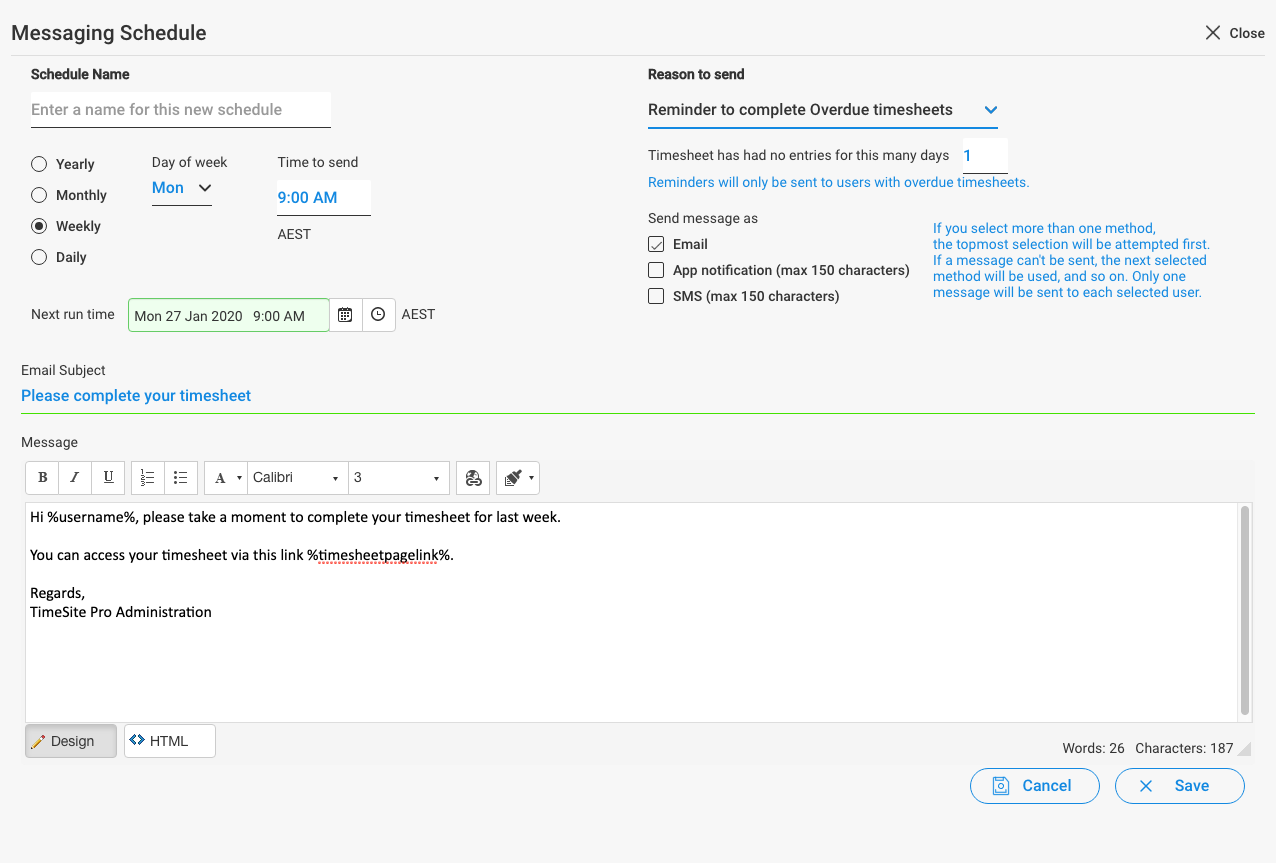 The Messaging Schedule panel enables you to specify:
the name of the scheduled message
frequency: yearly, monthly, weekly and daily
the next run time of this scheduled message; the message will be set at or soon after this run time
the reason to send the message, e.g. reminder to complete timesheets; additional options may be displayed depending on the reason selected
the message subject and body; message variables, e.g. %username%
You can compose your email message either via the Design button or the HTML button if need extra formatting control.
Triggered Messages
You can configure TimeSite Pro to send messages when certain events or actions occur within our solution. These events include:
new user added to your TimeSite Pro account
on-boarding email requested by administrator
user login password is changed
new invoice is finalised
payment is received
new client record is created
new project record is created
a user is linked to a project
a new task is added to a project
You can create an email including body text incorporating message variables.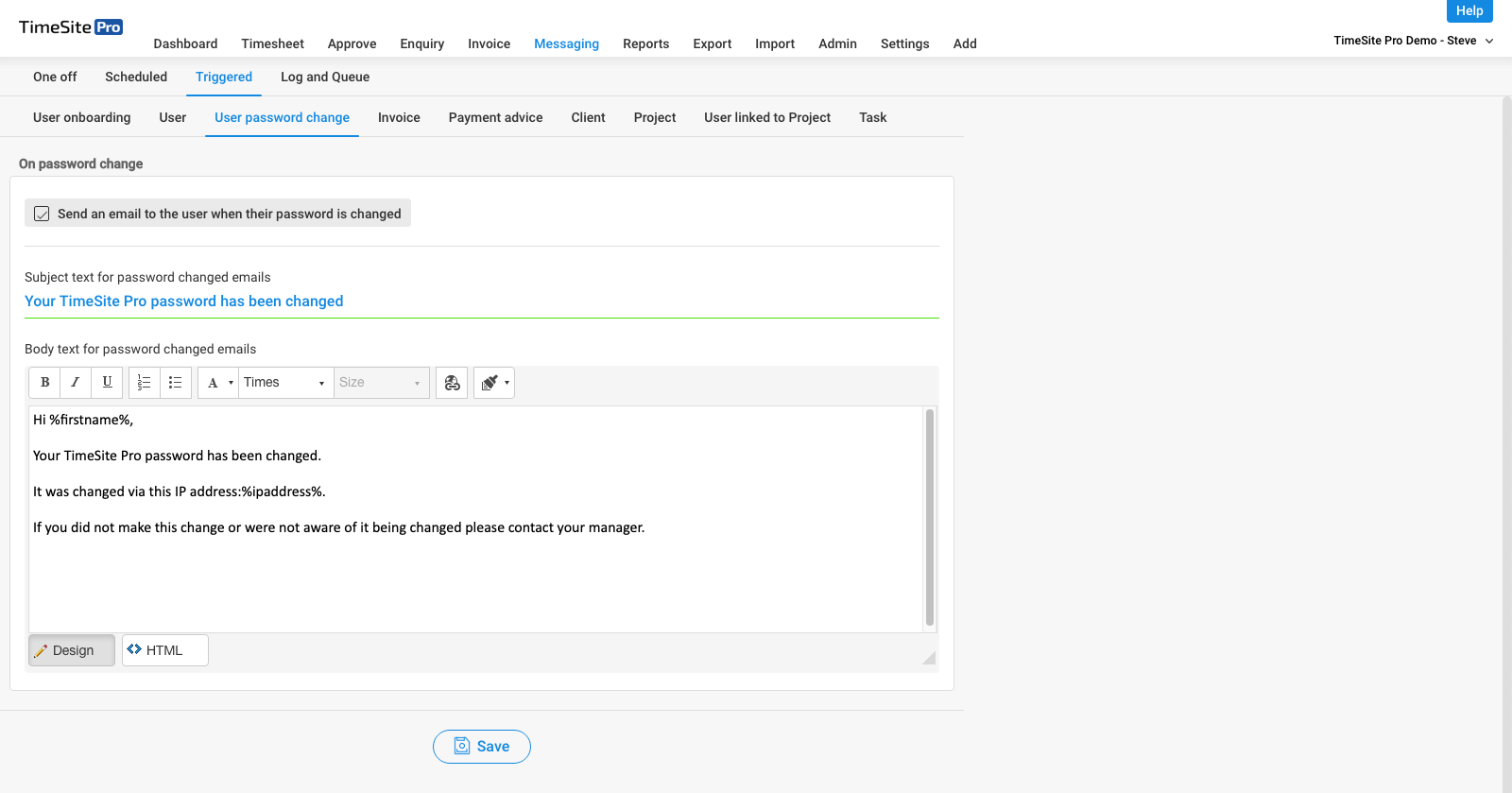 Log and Queue
The Log screen enables you to monitor the emails and messages that TimeSite Pro has sent to your users.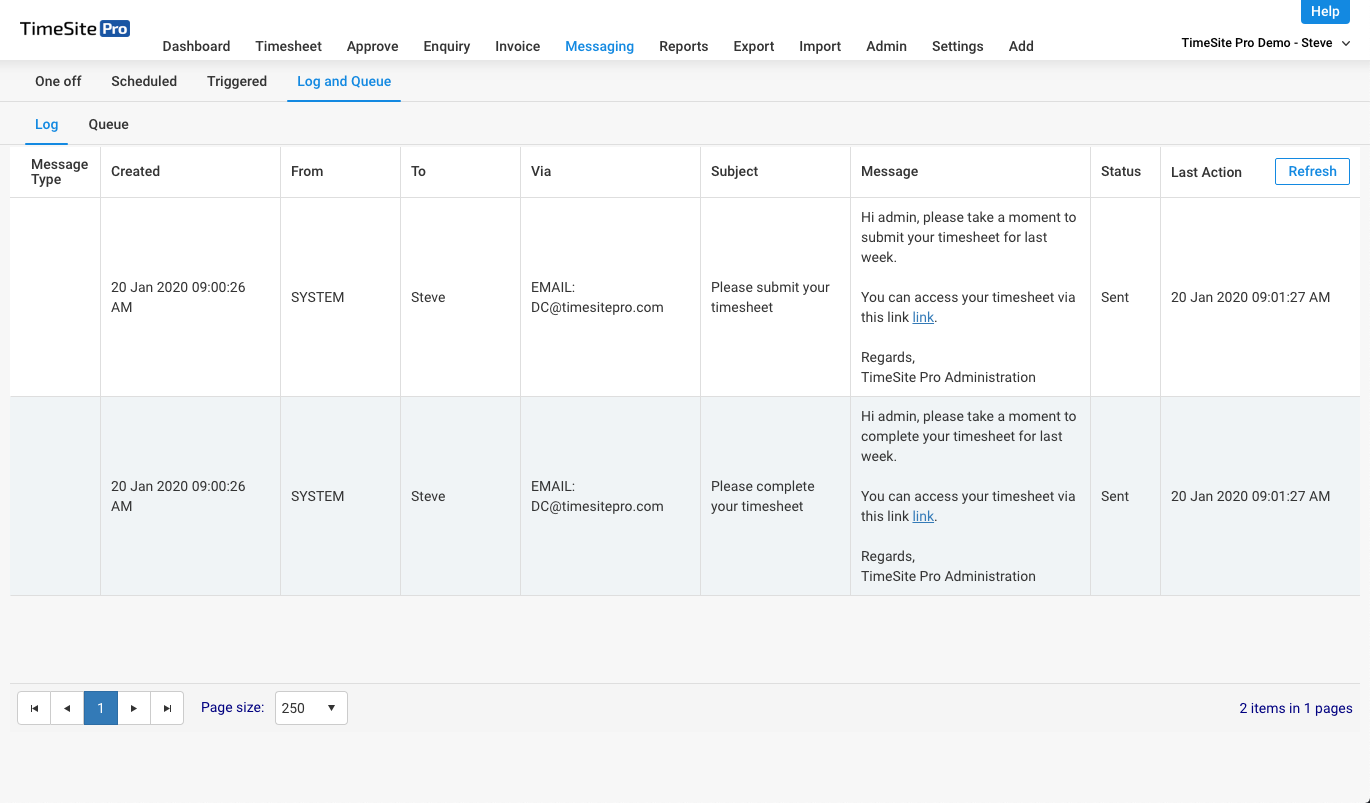 The Queue screen enables you to monitor emails and messages that are waiting to be sent after a scheduled, triggered, or one-off message has been queued. It is normal for this screen to be empty.