The TimeSite team is available for support as a standard part of your subscription and at no additional charge. There are a number of ways that you can contact us for assistance with any problems or questions that you might have. 
Email Support
You can send emails to support@timesitepro.com. We have a support ticket system that ensures that we can track your email request until closed. We request that you don't send support emails to individual staff members at TimeSite as this makes it impossible for our support team to have visibility of your request. 
If you have a request for sales assistance, please send an email to sales@timesitepro.com.
Chat Support
You can chat with us online during Sydney, Australia office hours. Go to the Help button in the top right corner of our screen and enable the Show chat icon in bottom left of screen clickbox.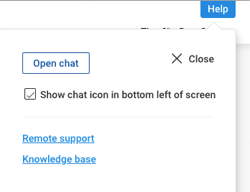 This will toggle the chat bubble icon at the bottom of our browser screen. 

You can then type a message to one of our online staff members, typically Simon or myself. If we're not able to immediately respond, we do commit to getting back to you as soon as we can. 
Phone Support
You can call us on Australia 1300 60 59 58 for support as well. If we're not able to answer your call immediately, please leave a message with your phone number and email address and we'll get back to you as soon as possible. 
Zoom Conference Calls
We often use our Zoom service to provide online demonstrations, support and assistance. We generally require at least one business day's notice to schedule these calls. We'll send you a calendar invitation including details on how to log in to a scheduled conference call from your computer. 
Implementation Assistance
We're happy to provide limited assistance to help you implement TimeSite Pro although you will find that setting up TimeSite Pro is very straight-forward. We do reserve the right to agree on a consulting fee with you if this assistance becomes more of an implementation project. 
Custom Reports
TimeSite Pro comes with many Reports as well as our Enquiry, Dashboard and data Export functions. However, if you require a custom report we are willing to develop a specific report to meet your requirements. However, there will be a development charge for this custom report. Please send a request along with details of your report requirements including a report layout to support@timesitepro.com. 
TimeSite Pro Customisation
We don't provide customised versions of TimeSite Pro, however, we are always interested in any suggestions you might have to improve our solution or include new features. Please send any such requests to support@timesitepro.com.