The TimeSite sales and support teams are very happy to help you with your evaluation of TimeSite Pro at any time. Let us know if you would like to schedule an online demonstration and discussion about our time tracking solution. There are a number of ways that you can reach out to us.
First, you can send an email directly to our support team at support@timesitepro.com. We will reply to your email as soon we can.
Second, you can chat with us by clicking on the chat icon at the bottom left of our application screen

or by clicking Help and then the Open Chat button at the bottom of the Help menu.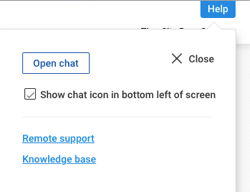 Finally, you can check our support contact details on the Support page on our website and our help article on How do I contact TimeSite for support or assistance.